I recently attended a fascinating mass timber session at Greenbuild. Mass timber is gaining traction in the design and construction world because it is beautiful and is now proven to be as safe as other forms of construction. The session brought into focus the growing role that mass timber construction is playing in green building. As the construction and design industries continue to explore ways of building gorgeous, functional structures with lower embodied carbon footprints, it is time to explore the potential of mass timber construction.
Mass Timber Construction 101
Mass timber construction is characterized by the use of large solid wood panels for floor, wall and roof construction. Terms with which one may be familiar include Cross Laminated Timber (CLT), Nail Laminated Timber (NLT) and Glue Laminated Timber (glulam). CLT and NLT can be used as panels for floors, roof decks and walls. Glulam components are typically used for columns and beams.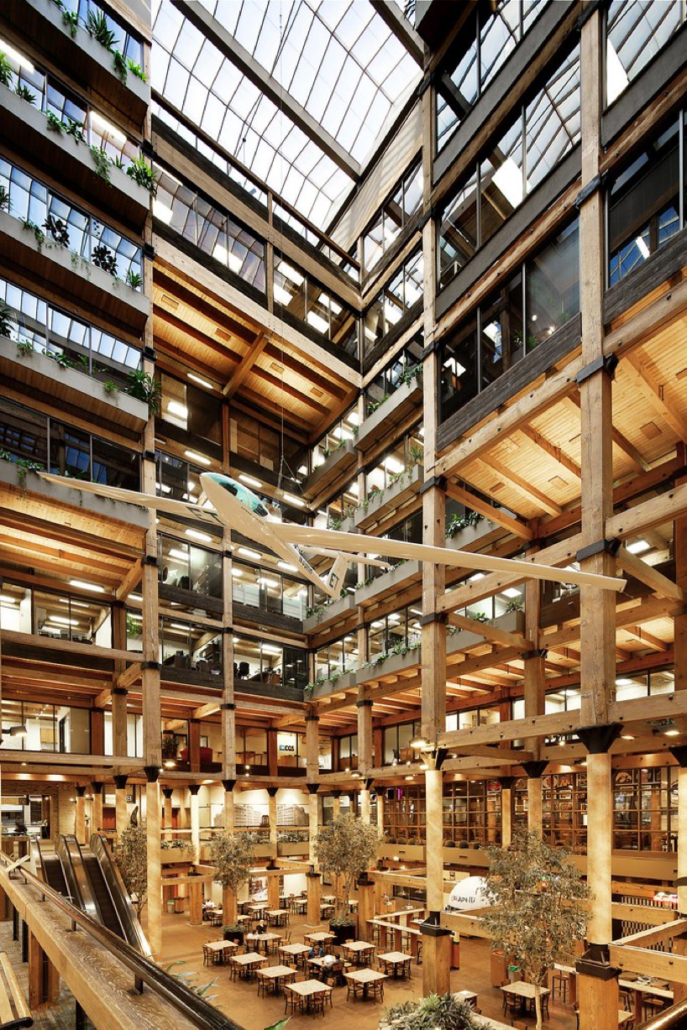 This is not an entirely new field. The nine story Butler Square Building in Minneapolis, Minnesota, was built in 1908 and is still in use. Contemporary mass timber buildings have been built in Europe for the last twenty years or more. Adopted codes in many jurisdictions in the United States are currently behind the curve. Mass timber is not the same as light wood framing and should not be considered as such. In fact, three new Type IV construction classifications have already been approved for the 2021 International Building Code. One of them, Type IV-A, fully protected, provides a 3-hour frame and 2-hour floor for construction up to eighteen stories and 270 feet in height.
The Benefits of Mass Timber Construction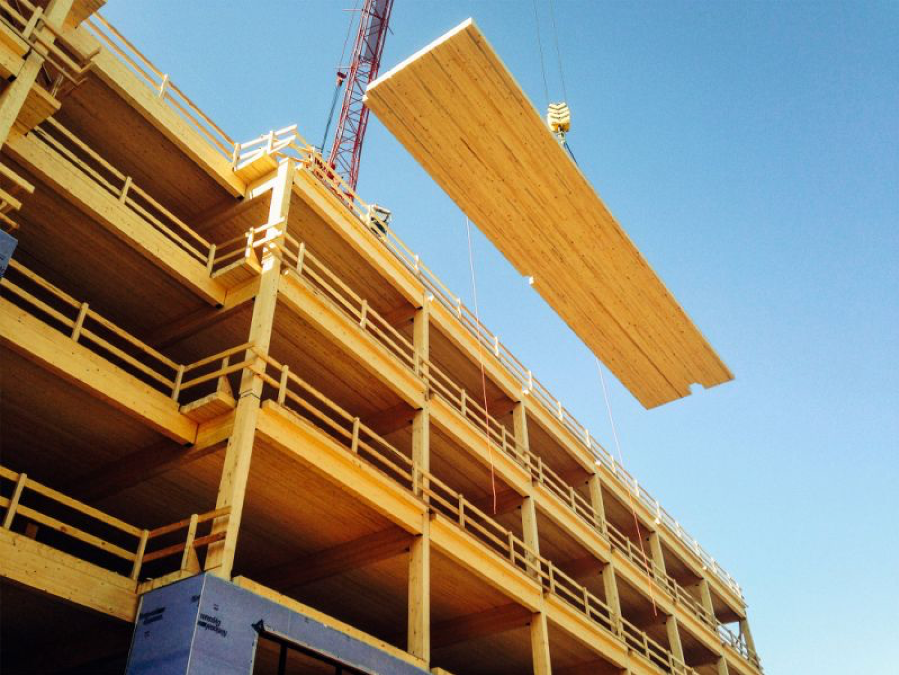 Predictability of Schedule: Mass timber construction projects are often delivered on time or early due to the efficiency and speed of construction.
Streamlined Construction Process: When you choose mass timber construction, crews can work on placed decking immediately. This speeds-up the construction process and removes some of the delays that can occur when you choose other building materials.
Reduced Foundations: Mass timber structures are 25% of the weight of concrete, so foundations can be reduced.
Less Waste: Unlike other construction materials that generate and leave behind a great deal of waste, there is little to no job site waste that occurs with timber. Factory waste can be recycled completely.
Less Labor: Mass timber construction requires smaller crews which saves money.
Less Community Disturbance: Mass timber construction produces less construction traffic and assembly generates less noise than the construction of alternate structural systems.
Carbon Reduction: Mass timber has the potential to sequester carbon but the benefit depends on sustainable forest management, the project's life cycle and the eventual end of life recycling of the building materials. Mass timber buildings definitely have a smaller carbon footprint than other types of construction but owners and designers interested in this calculation must wade into the weeds to truly quantify the difference.
The Potential Obstacles for Mass Timber Construction
Plan Review: Because mass timber construction is not as widely accepted by building codes in the United States, you may need to spend more time and money having your plans reviewed and approved than you ordinarily would. Reviewers may require more protection than is necessary. Wrapping mass timber elements in gypsum significantly increases cost and reduces the carbon benefit, not to mention that you can no longer see the beautiful wood structure.
Insurance: Check with the owner's insurance company before going too far into the process. Mass timber isn't the same as light wood framing but insurance companies sometimes need education. Fire test information and additional studies are available to give to your insurer when negotiating rates.
Experienced Project Teams: Architects undertaking their first mass timber project should work with a structural engineer or another architect with experience. Contractors need experience as well. In one of the case studies presented, the owner required the assembly of a sample bay of the building so the contractor could understand how the components would go together. This aided the contractor in establishing an appropriate price and schedule for the work.
Material Availability: With increased interest in mass timber construction, plants capable of producing CLT, NLT and glulam products may be challenged. As with any popular product, check on availability and lead times.
Summary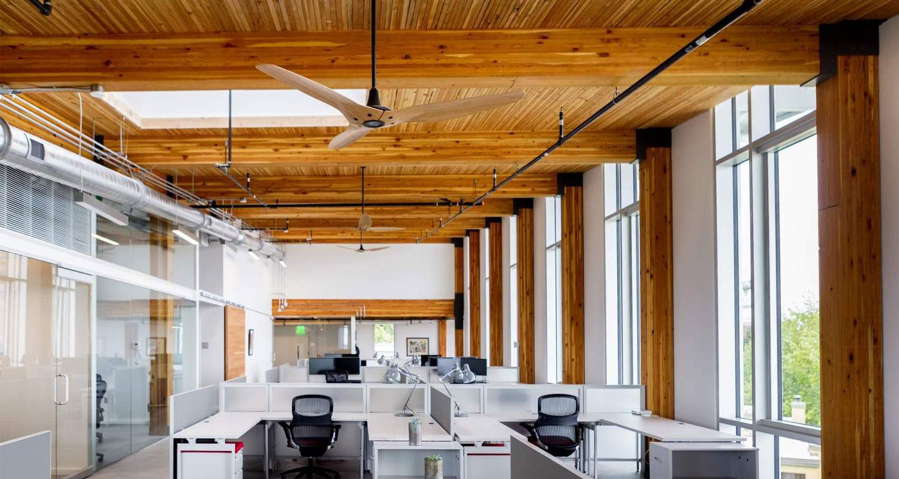 Mass timber buildings hold much promise, not only for buildings seeking environmental benefits, but for delivering beautiful buildings on time and on budget. Under the 2021 building code, mass timber buildings that are sprinklered can be fully exposed up to nine stories. The biophilic benefits of beautiful wood workplaces cannot be understated. The full potential of mass timber construction is only beginning to be explored.
http://dooconsulting.net/wp-content/uploads/2017/02/doo_consulting_logo-300x149.png
0
0
Meganc@dooconsulting.net
http://dooconsulting.net/wp-content/uploads/2017/02/doo_consulting_logo-300x149.png
Meganc@dooconsulting.net
2020-01-13 11:00:30
2020-01-15 13:56:24
Exploring Mass Timber Construction