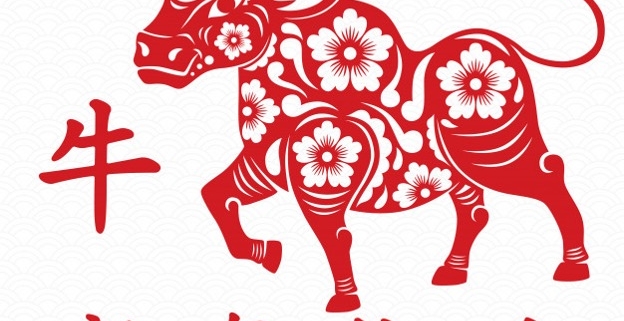 The Year of the Metal Ox, 12 Feb 2021
Happy New Year! If you were concerned that the beginning of 2021 was no better, or even worse, than 2020, take heart. According to the Chinese calendar, the new year doesn't begin until February 12 this year! 2020 was the year of the Rat, which, as we said in last year's blog,
"…it (Year of the Rat) is considered a time of new beginnings and renewal, a time to turn one's back on the past. Globally, we shall see whether the characteristics of the ingenious rat will lead us to solutions to the many challenges before us politically, socially and environmentally or if inadequate preparation will deny us the opportunity of the moment."
What do you think? Is all of the unrest an opportunity lost or a clarification of previously hidden (to many) challenges before us?
Oxen are work animals and the metaphor could not be clearer. We have a lot of hard work before us in 2021. Perseverance in struggle is a quality of the Ox. The Ox is also calm, going about its business with peaceful determination.
Can we expect a calmer, more diligent approach to 2021? We shall see.
For more information and to see what your potential is in 2021, click here.
Doo's News:
Doo Consulting has survived 2020. During the early days of the pandemic, Gizmo, our Wellbeing Compliance Officer, reminded us not to stress too much. In the end, 2020 turned out okay allowing us to add a new member to our staff in November. We hope you will be able to work with Andrew Koenings in the near future. Like many, we are working remotely and are missing the company of one another. In July, we joined together for a virtual Escape Game and in October we held an in-person badminton "tournament" as this seemed like an appropriately distanced activity. But, maintaining a company culture while working remotely is a challenge. Here are a few suggestions.
Host All Hands gatherings. We conduct a Monday morning team meeting every week. This is definitely work related but we frequently start with some general conversation. It's a chance to hear about what is going on in the office as well as to catch up with colleagues.
Send periodic Pulse Checks to see how people are doing. It has been noted that the stresses of the pandemic can affect people's mood and morale. Internal surveys are one way to check in on your staff and are easy to conduct. We haven't done this yet, but this is easily done with Microsoft Teams, Slack and other tools.
Send internal newsletters. For offices as small as ours, a simple email to share news such as compliments from clients, project milestones, staff accomplishments and other good news may be enough. For larger offices and companies with multiple locations, the newsletter can be an important tool in building and maintaining the company culture.
Office Activities. Our virtual Escape Game and badminton challenge was fun. Volunteering can also be a way to share values and build common experiences. Be careful! Our gathering in October was outside and less than ten people. I'm not sure I would do it now. Assess the level of risk. Follow CDC guidelines. Allow staff to opt out if they are uncomfortable.
Here are a couple links to other articles on the subject.
https://www.thebalancecareers.com/how-to-maintain-company-culture-while-remote-working-5083958
https://www.lucidchart.com/blog/how-to-maintain-company-culture-with-remote-workers
AIA COTE+R Series
In the summer of 2020, in response to the Black Lives Matter movement, the AIA Baltimore COTE+R asked itself how the committee might educate itself on matters of social justice. A series of presentations having to do with the planning and design of our built environment and social and environmental justice issues evolved. In January, Peter Doo moderated a presentation on pollution, healthy housing and environmental justice. This presentation is available on the AIA Baltimore YouTube channel. On February 23rd, Peter will be moderating another presentation on Food Insecurity in Baltimore. A third presentation is being planned. All are being offered to the community at large so we can be better informed and aware of how our actions and the actions of others affect our fellow citizens and the equity and prosperity that we seek in our City.
Just
We are in the process of updating our JUST label. Shared in a previous blog, JUST is a transparency platform for organizations to disclose their operations, including how they treat their employees and where they make financial and community investments. JUST is a nutrition label for socially just and equitable organizations. Whether you choose to share your information or not, JUST is an excellent tool to evaluate Corporate Social Responsibility (CSR) and contribute to a full Environment Social Governance (ESG) assessment.
Commitment to Climate Change and Resilience
We remain committed to our work as important to addressing climate change mitigation and adaptation. As the fires and storms of 2019 and 2020 have demonstrated, the need to adapt to an already changing climate is upon us. But, if there is any possibility that we can stem greater impacts of climate change, we must. This is not simply an environmental challenge, this is a financial and social challenge; People, Planet, Prosperity – Economy, Ecology, Equity. However one chooses to label it, we put all at risk by ignoring any of the three pillars of the sustainability triad.
"Integrating ESG practices has been shown by many studies — including ones from Bank of America, Morgan Stanley (PDF), JPMorgan and Deutsche Bank — to produce competitive or better risk-adjusted performance compared with so-called mainstream peers."
From the Morgan Stanley report:
"A holistic approach to sustainability—with respect to disruptive change, financial strength, environmental and social externalities and governance (also referred to as ESG)—helps us identify investment opportunities."
Featured Project
Dr. Samuel A. Mudd Elementary School
Waldorf, MD
Owner: Charles County Public Schools
Architect: SEI Architects
MEP: Alban Engineering
CM: Scheibel Construction
The Dr. Samuel A. Mudd Elementary School is a new state-of-the-art project that included the renovation of the existing 40,383 SF existing elementary school and the construction of a new 34,895 SF on-story addition, creating a 75,278 SF community educational resource. The project included expanding and updating the core-learning spaces to a 21st Century learning environment capable of accommodating the growing student population in the area.
Providing a high-quality and modernized space for the students and administrators was the top sustainability goal. The design team utilized as much of the original Sam Mudd ES building in order to take advantage of existing infrastructure. Sitting on a 14.2-acre site, the design team was able to maximize the amount space with thoughtful consideration and placement of the new addition. This enabled the team to incorporate multiple new play areas as well as the inclusion of an outdoor science lab.
Sustainable design features include improving the building envelope performance, utilizing only LED lighting, and installing a highly efficient HVAC system, all resulting in a 38% annual energy cost savings. The team was also able to maximize natural daylight and views in classrooms; this combined with the installation of low/no VOC finishes provide an optimal indoor learning environment for students.

The project earned a LEED GOLD Certification. 
http://dooconsulting.net/wp-content/uploads/2021/02/Picture1-3.jpg
624
624
Meganc@dooconsulting.net
http://dooconsulting.net/wp-content/uploads/2017/02/doo_consulting_logo-300x149.png
Meganc@dooconsulting.net
2021-02-12 08:00:00
2022-03-12 14:54:03
The Year of the Metal Ox, 12 Feb 2021