In our previous blog, we discussed the origins of COP26, who is involved in this year's climate conference, and what is at stake if these call for actions continue to go unanswered. The event was highly anticipated due to last year's delay, which was caused by the coronavirus pandemic. As in previous years, many individuals addressed the urgency of the climate crisis and explained how we must act now before it is too late. However, some argue that we are already on the cusp of that threshold and our leaders aren't doing enough. Now that the event has concluded, we will go over the most significant takeaways.
The first thing I want to know is whether COP26 agreements have protected the 1.5°C warming target established by the Paris Agreement. The answer to this question is, "Probably not".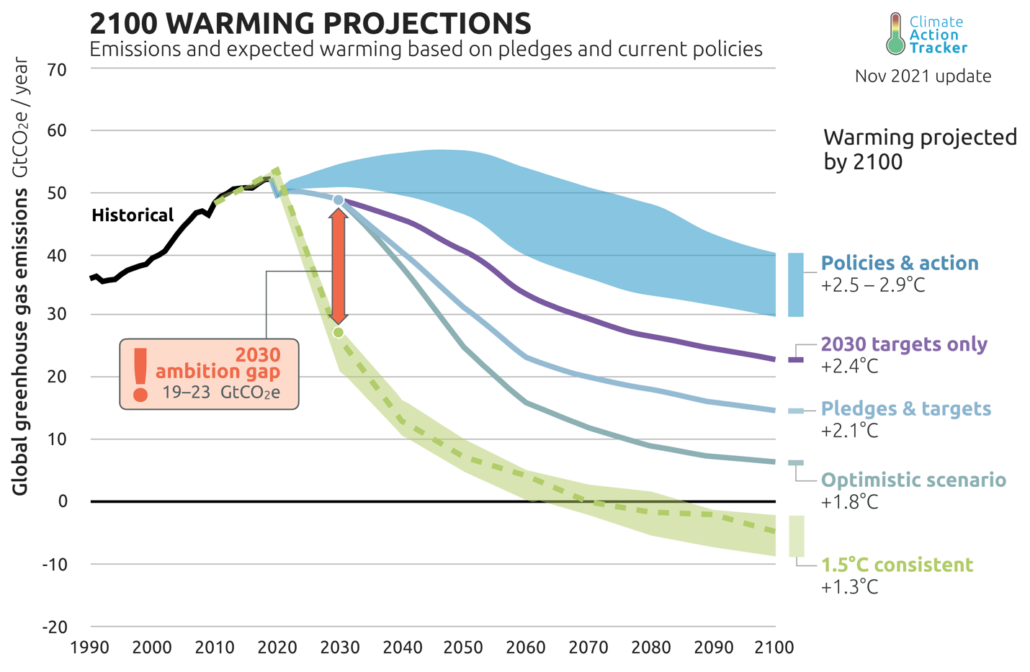 Somewhat apologetically, COP President, Alok Sharma, said in his closing remarks, "This is real progress in keeping 1.5 degrees within reach." But, "within reach" is not a commitment or a plan to achieve that goal. Climate Action Tracker projects that if all commitments of COP26 are met, global warming could be limited to 1.8°C. Illustrated in the graph above, the world is more likely heading toward 2°C or greater at current commitments. So, while 1.5 is still alive, COP fell well short of showing how it will be done. Participants were charged with returning to COP27 to revisit the ambition of their 2030 targets.
COP26 was not without its accomplishments, however.
Pledges to End Deforestation, Overseas Fossil Fuel Harvesting, and More
On November 2nd, 110 world leaders came together to sign a pledge to end deforestation by 2030. The participating countries include the U.S., the U.K., Italy, Japan, Turkey, Denmark, Canada, Colombia, Mexico, Russia and Brazil.
Two days later, 20 countries signed a pledge to cease purchasing overseas oil, gas and coal by 2022. One important caveat to mention here is the agreement doesn't mention anything about domestic fossil fuel harvesting. Ultimately, some leaders could simply worsen their impact on the environment by continuing to collect fossil fuels in their home country. It's also worth noting that over 500 individuals representing the fossil fuel industry were in fact present at COP26.
The first explicit reference to addressing coal production and fossil fuel subsides was introduced into the COP26 Agreement. A last-minute language change forced by India caused consternation by several negotiators and environmentalist but the fact that this reference made it into the agreement sends a signal that the era of coal is ending.
The Paris Agreement, Article 6 Rulebook was approved. This is a big deal because it provides guidance for the international trading of emissions. This will impact carbon markets, emissions reductions, and private sector investment.
Another accomplishment of COP26 is the doubling of adaptation finance taking the annual figure to around US$40 billion. A record amount of new money was committed to the Adaptation Fund as well as to the Least Developed Countries Fund. Parties will continue deliberations on setting annual goals for the next three years and establishing a process to define the post-2025 climate finance goal.
COP26 acknowledges that climate change has already caused and will continue to cause loss and damage. Vulnerable countries and island nations were disappointed that the Loss and Damage Fund that they had requested was opposed by the United States, European Union and other rich nations. Funding was supported for the Santiago Network that provides technical assistance to countries dealing with the effects of climate change.
Finally, the U.S. and China agreed to work together to combat the crisis by "[making their cooperation] more concrete and pragmatic" and forming coalitions to increase climate action in the years to come.
Though some progress was made, climate activists were disappointed that greater commitments weren't realized. On November 5th, over 30,000 protestors, including many individuals who will be living with the consequences of climate change, gathered in Glasgow. While the COP26 conference took place, Greta Thunberg gave a powerful speech criticizing the conference itself. Along with a group of other activists, she also petitioned the U.N. to declare a climate emergency as soon as possible, which has yet to take place.
"The COP has turned into a PR event where leaders are giving beautiful speeches and announcing fancy commitments and targets, while behind the curtains the governments of the Global North countries are still refusing to take any drastic climate action."
A few days later on November 8th, former president Barack Obama took to the stage to make a speech of his own. Although he acknowledged the positive steps we have taken as a country to combat climate change, he also stated that "we have not done nearly enough to address the crisis" and "time really is running out." He used the opportunity to speak to young people specifically, urging them to maintain their anger and transform it into thoughtful action.
Learn About How Your Business Can Benefit from the COP26 Summit
For businesses offering technical support for climate mitigation and those working in carbon markets, COP26 presents some opportunities. Buildings generate nearly 40% of annual global CO2 emissions.* Doo Consulting works in this market sector to help reduce those emissions. Contact us if we can assist in your goal to reduce emissions from your existing building or your next project.
*Architecture 2030
http://dooconsulting.net/wp-content/uploads/2021/12/COP26-Recap-1.jpg
667
1000
Meganc@dooconsulting.net
http://dooconsulting.net/wp-content/uploads/2017/02/Doo-Lorax-Logo-2.png
Meganc@dooconsulting.net
2021-12-20 08:00:53
2022-03-12 14:52:54
Recapping COP26 2021