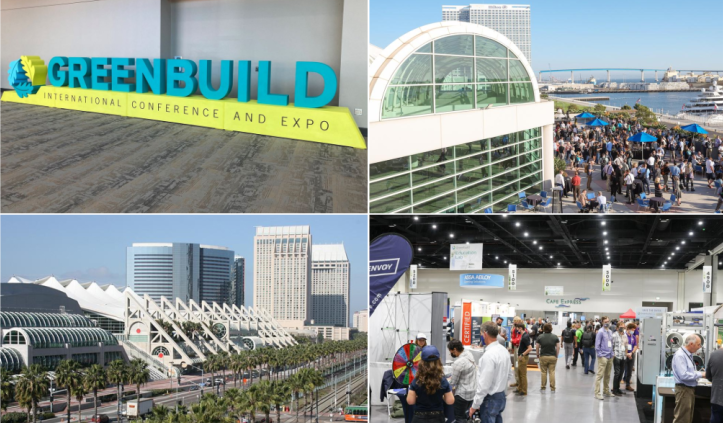 New leadership at USGBC
Two members of Doo Consulting joined our colleague from the San Diego office to attend the 2021 Greenbuild conference there. It's an interesting year for the US Green Building Council. The organization will be electing a new president, only the fourth in nearly forty years. Attention to the leadership transition was understated. While the organization embarks on a search for new president, Peter Templeton, a long time USGBC leader and former president of GBCI, will be serving as the acting president of the organization after Mahesh Ramashanian's departure at the end of this October. Peter has committed to undertaking a strategic review of the organization and addressing issues of leadership, culture and technology to better serve the USGBC community. If you have been frustrated by an inability to communicate with USGBC or GBCI, or by the functionality (or lack thereof) of LEED Online, there is reason to anticipate positive change. USGBC has been a leader in mobilizing the building sector including manufacturers, developers, institutions, designers, and builders toward a greener, healthier and more resilient future. Their leadership is needed now more than ever.
Reducing Carbon
In-person attendance at the conference was light. I've heard estimates that around 2,000 people were in attendance. Despite this, the conference was still vibrant and it was good to run into colleagues from around the world who chose to attend. I hope all who traveled to San Diego offset their carbon emission! Carbon was a common theme throughout most of the sessions whether directly or indirectly. It was definitely the elephant in the room. In my opinion, the most significant presentation was on "SE2050", the structural engineering equivalent of Architecture 2030. Having the structural engineers onboard to address carbon reduction is huge. SE 2050 is an initiative by the Structural Engineering institute (SEI) for which over 60 firms have already signed up! An estimated 50% of new building embodied carbon is in the building's structure. If you want a structural engineer who can help you reduce embodied carbon in your building, I encourage you to select an engineer who has signed the SE2050 Commitment or encourage your engineer to do so. For more information you can visit www.SE2050.org.
The Use of Life Cycle Assessments
There were a number of sessions on the tools and how-to of life cycle assessments. As with any modeling tool, the output is only as good as the input. For LCA modeling, consistency is key. Who was the modeler? What software did they use? Which version? To what version of which standard did you establish your baseline? All these things are important when comparing your data from project to project or between models created for the same project. This will be a growing part of building analysis going forward as Environmental Social and Governance (ESG reporting for real estate portfolios increases.
Credit Changes and Updates in LEED v4.1
USGBC does not stand still and there are more addenda being advanced for LEED v4.1. Based on the uptake of credits, USGBC assesses how it might adjust the standard to encourage the change they are seeking in the market. For example, the Building Product Declarations and Optimization (BPDO) credits, as they were introduced in LEED v4, were the least pursued of all LEED credits. These credits were created to encourage transparency in the reporting of product material and chemical content. Through an assessment of the questions and comments that were received, the number of times the credit was pursued and achieved, and other factors, USGBC has amended these credits to provide clarifications, greater guidance and/or adjustments to the requirements. Under LEED v4.1, the BPDO credits have seen the greatest increase in pursuits and the number of Environmental Product Declarations (EPDs) and Health Products Declarations (HPDs) available from manufacturers has increased considerably. The last LEED addendum was issued in April of 2021. Here are a few of the credit updates we heard about at Greenbuild. For a complete update, click here.
Location and Transit
The High Priority Site Credit has been amended to include Economically Disadvantaged Communities based on census tract data.
Access to transit can now include project sponsored transit if benchmarks are met.
Fuel Efficient Vehicles is now Electric Vehicles – This means EVs only and the number of spaces required is now 5%. While there was discussion of the embodied carbon of EV infrastructure, this is not only a matter of the elimination of fossil fuels but also of grid harmonization. Once again, USGBC is looking to the future.
Energy and Atmosphere
Energy Performance now references ASHRAE 90.1-2016. Still less than code, you say? Remember, LEED is an international rating system and some places have no code. Even in the US, not all jurisdictions have adopted the latest code. The beauty of LEED is that it provides an entry point that encourages participation while there is no limit to what a project team can challenge itself to achieve.
Demand Control is now Grid Harmonization and includes "Case 3 – Load Flexibility and Management Strategies".
Renewable energy now considers 3 tiers of renewable energy sourcing.
Materials and Resources
Guidance on EPDs has been updated again. Under Option 1 most EPD's are valued as 1 whole product except for a Product Specific Type III EPD which is valued at 1.5 products for the purpose of credit achievement.
The number of products required for CS and Warehouse projects is reduce from 20 to 10.
There are numerous other changes in all credit categories with the goal of increasing project team engagement and accelerating positive change in the market. I encourage you to refer to the April amendment. For assistance with your project, call us at Doo Consulting.
http://dooconsulting.net/wp-content/uploads/2021/10/Screenshot-78.png
541
723
Meganc@dooconsulting.net
http://dooconsulting.net/wp-content/uploads/2017/02/doo_consulting_logo-300x149.png
Meganc@dooconsulting.net
2021-10-12 08:00:49
2022-03-12 14:53:20
Takeaways From the 2021 Greenbuild Conference