Some owners and project teams believe that being "LEED-like" is the same as achieving LEED certification, but that isn't the case. Frequently we receive requests from clients who want to create a "LEED-like" building. This is where the project team follows a LEED checklist and declares their project equivalent to a level of LEED certification without actually registering or certifying the project. While you might think "LEED-like" buildings are more cost-effective and lead to the same result, that is seldom the case.
LEED-like Isn't the Same as LEED Certified
Someone recently said, "When there is a scoreboard and a referee, the game is played differently." This can apply to many things in life but in relationship to LEED, or any other compliance requirement, this is absolutely true. "LEED-like" buildings are not the same as LEED-certified buildings. If a project team is going through the same design effort to create a non-certified-LEED-compliant building, all consultants are expending the same energy they would if the project was certified. In the end, the costs saved are the project registration fees, certification fees and some of the documentation costs. For large projects, registration and certification fees can amount to tens of thousands of dollars, but as a percent of project costs, it is small; $.05 – $.063 per square foot where the project costs are hundreds of dollars per square foot. For these few cents, one gets a strong motivator for sustainable design excellence.
Knowing that documentation is required and will be reviewed encourages project team members to dot their i's and cross their t's. Having achieved LEED certification, recognition of that fact is something that can be substantiated and promoted. As an investor, buyer or simply a building tenant, what can or should one assume when an owner says that a building is "LEED-equivalent"? For LEED certified projects one knows that documentation has been submitted and reviewed to validate the building's credential. Documentation is also available to the building facilities team to monitor building operations, guide enhanced or recommissioning activities, and guide future renovations of the project.
LEED Is Imperfect
Some critics of LEED and proponents of "LEED-like" buildings choose to highlight perceived flaws in the system as a justification of creating their own green building process. One thing we hear repeatedly is the fact that a bike rack and a 2% energy reduction have the same point value (LEEDv3). The implication is that a point can be bought with the installation of a shower stall and a locker. Critics note that these things should not be considered equivalent and suggest that LEED is too easily "gamed". The LEED standard is not perfect, but it is well considered and nuanced. One can make a strong argument for the environmental benefits of bicycle usage if people actually do it. Owners and architects are equally guilty for spending money and resources on points that produce no economic or environmental benefit, if that is what they are doing. It is certainly not sustainable to install a shower stall to be used as a closet. To some extent, the system can be manipulated by clever building designers and owners, but the intention and point distribution of the rating system has been established by committees of subject-matter experts doing the best they can to create meaningful criteria to define what a "green building" is.
LEED Certification Still Remains Relevant
LEED is a tool and, like any tool, it can be used masterfully by a craftsman or used by an amateur with predictably less refined results. Well-designed LEED buildings created by experienced project teams deliver on the promises of the rating system—resource conservation, lower operational costs, restorative site development, healthier indoor environments, and lower carbon emissions. LEED remains an important certification standard for owners, builders and designers. In light of the recent reports from the International Panel on Climate Change and the National Climate Assessment report to Congress and the President, the demand for high-performance, healthy buildings has never been greater. 
Certification matters and LEED continues to be the dominant green building certification program in the US and beyond. LEED project registrations in the US were up 14% in 2018 over 2017*. One can expect that certifications will remain important measures of green building performance as we continue to pursue more environmentally benign and healthier buildings while meeting the challenges of climate change.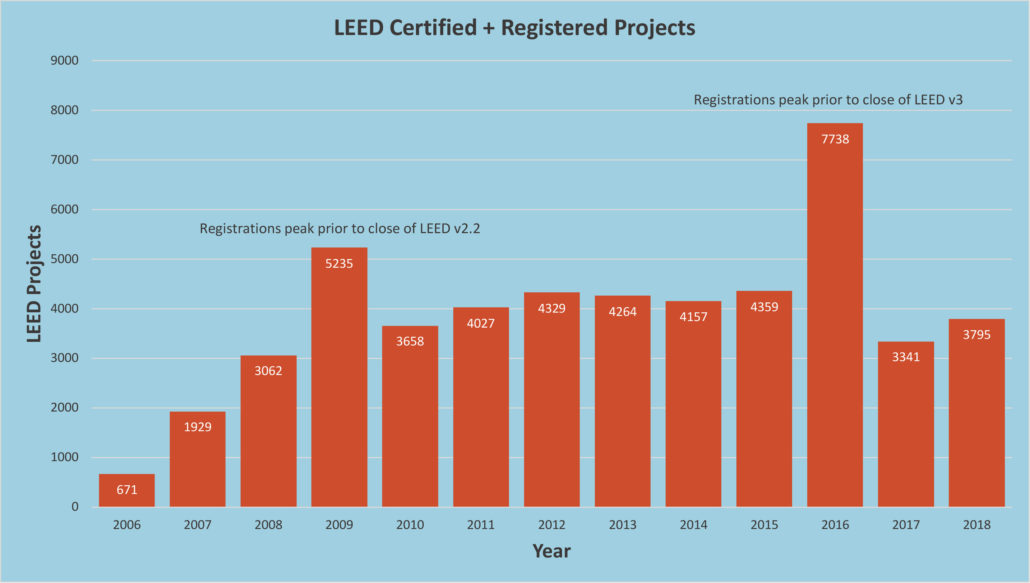 Is LEED Still Relevant?
This is the final blog in a four-part series on the LEED rating system. All four parts of this series can be found on our website, www.DooConsulting.net. Doo Consulting provides consulting services for LEED and many other green and healthy building rating systems.
http://dooconsulting.net/wp-content/uploads/2019/01/Screen-Shot-2019-01-06-at-6.16.19-PM.png
474
1180
Meganc@dooconsulting.net
http://dooconsulting.net/wp-content/uploads/2017/02/doo_consulting_logo-300x149.png
Meganc@dooconsulting.net
2019-01-28 08:00:03
2019-01-28 14:15:58
The State of LEED: Is Being "LEED-like" Enough?