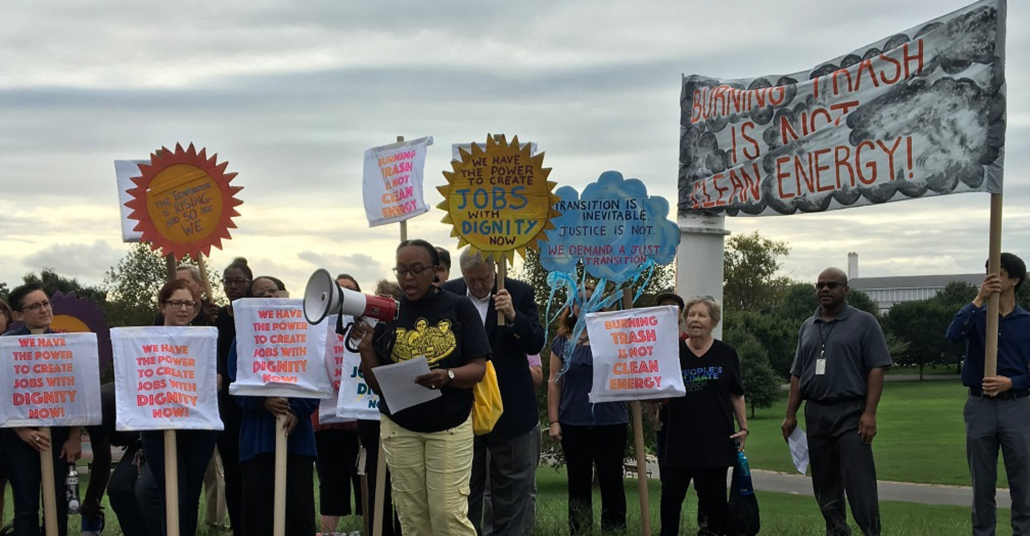 Over the past few weeks, Americans and global citizens alike have been reflecting on our role in the creation of a more just society. The inequities that have long permeated our culture have been exposed more profoundly than in recent decades. The increased availability of an abundance of online educational resources to help combat systemic and inherent racism is a constructive response. The advancement of social equity to lift up vulnerable communities is an issue to which each of us has an opportunity to contribute every single day in our professional, personal, and community lives.
Nearly all definitions of environmental sustainability reference the social equity component of the triple bottom line approach. Ensuring social, environmental, and economic prosperity are integral pillars of our work as sustainability professionals. The U.S. Environmental Protection Agency (EPA) defines environmental justice as, "the fair treatment and meaningful involvement of all people regardless of race, color, national origin, or income, with respect to the development, implementation, and enforcement of environmental laws, regulations, and policies." Over the past several years, green building rating systems have implemented a more tangible focus on social impact assessment as a key feature of sustainable development. It is our responsibility, as sustainability professionals, to ensure that best practices pertaining to environmental justice in the built environment receive as much consideration as the steps we take to maximize energy efficiency and transparent building material sourcing. Fortunately, there are many tools and resources at the disposal of today's sustainability consultants and project managers. We must now commit to understanding and integrating them into our daily practice.
While the U.S. Green Building Council's (USGBC) mission "To transform the way buildings and communities are designed, built and operated, enabling an environmentally and socially responsible, healthy, and prosperous environment that improves the quality of life." has always emphasized social responsibility, in 2019, USGBC® took this a step further by providing more specific resources for action. USGBC introduced several enhanced programs as a part of its Equity Initiative, including new LEED® pilot credits, educational resources, expanded state and federal level advocacy efforts, the Advance Campaign to connect community organizations with experts and resources, and The Living Standard that illustrates how people are the priority in designing our built environment. Just as corporate human resource professionals institute policy and practice for inclusion and diversity in the workplace, professionals involved in building development should implement systems to ensure that their projects are serving communities in an equitable manner. This is part of our social contract.
In 2012, the Institute for Sustainable Infrastructure (ISI) introduced the Envision® rating system, a framework that "encourages systemic changes in the planning, design and delivery of sustainable and resilient infrastructure." As both urban and rural areas expand in density and land coverage with the growing human population, the need for investment in infrastructure is ubiquitous. Infrastructure is all around us. It is our roads, bridges, and tunnels; our energy and water supply and distribution systems; our sewage, wastewater, and material waste removal; and our parks and recreation areas. While fundamental infrastructure components serve entire communities, cities, and regions, the burden of the negative impacts of poorly planned development are disproportionately felt by already vulnerable minority and low-income communities.
Practices directed toward assessing impacts of infrastructure development on surrounding neighborhoods and involving local community members in decision making discussions through engagement activities are central to a substantial portion of the Envision rating system credits. In several different ways, Envision asks – will this infrastructure project make its host community stronger and more resilient? What are the human health impacts? Will there be more opportunity for jobs and training programs for neighboring residents as a result? To what extent do community members have input in the details of the development? Will the development maintain or improve the quality of life of area residents? This system echo's the 2017 words of United Nations Secretary General Antonio Gutteres when he stated, "Infrastructure investment will be crucial. The world should adopt a simple rule: if big infrastructure projects are not green [sustainable], they should not be given the green light. Otherwise, we will be locked into bad choices for decades to come." A project can't be "green" if it does not consider impacts to all people.

My home city of Baltimore, Maryland has its share of experience with poorly planned infrastructure. A well-known example is the "Highway to Nowhere" that divides an urban community and has made it poorer over time. Another is the waste incinerator with which I have some personal experience. Other, mostly white, communities have been threatened by ill-conceived and poorly planned infrastructure projects but eventually spared. Unsurprisingly, the communities negatively affected by these two infrastructure developments are black communities.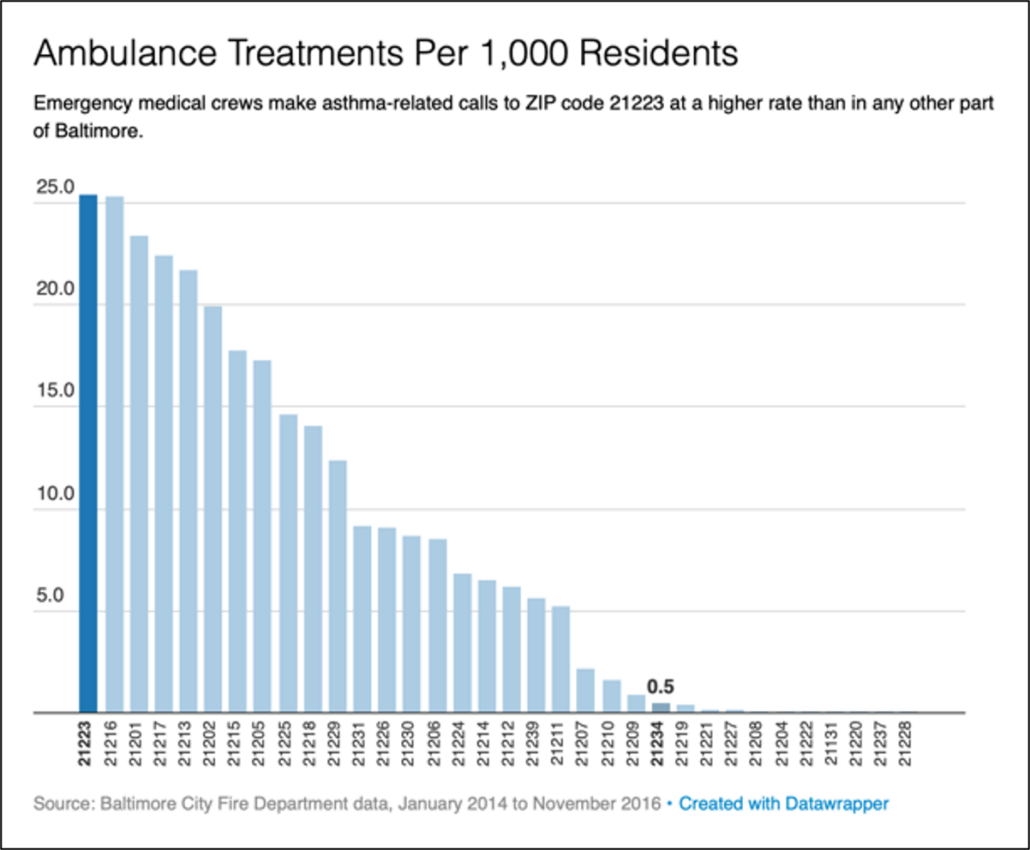 According to the Maryland Department of Health and Mental Hygiene, the asthma rate among children under 18 in Baltimore is more than twice the national average. Within the city, it is the south Baltimore communities that suffer most profoundly as evidenced by asthma-related emergency room visits and hospitalizations which are highest in the area's 21223 zip code. Not surprisingly, this neighborhood is directly adjacent to Baltimore's largest stationary air polluter, Baltimore Refuse Energy Systems Co. (BRESCO), the waste incinerator that is responsible for 36% of all industrial air pollution in Baltimore according to the Chesapeake Climate Action Network (CCAN).
---
Operated by New Hampshire-based Wheelabrator Technologies, BRESCO's health, environmental, and economic impact on Baltimore residents has long been the subject of significant study and intense discussion. Controversy over the facility's expired air pollution permit, financial incentives for area hospitals that treat south Baltimore's asthma patients, and the Baltimore Clean Air Act persist. We should also consider the snowball effect that occurs when sick children miss school, parents miss work, and families lose income and opportunity as the result of hospitalizations and treatment from environmentally exacerbated illnesses. This is how the unjust impacts of irresponsible development are perpetuated in our system, leaving minority and low-income residents with little opportunity to improve their resilience, financial independence, and quality of life. The question remains, how do we stop locating potentially harmful infrastructure projects in vulnerable communities and perhaps even help these communities to prosper?
Energy Answers International met with the perseverance of south Baltimore's Curtis Bay neighborhood when the corporation was granted a permit to build a new waste-to-energy incinerator within one mile of Benjamin Franklin High School and near several area elementary schools. After years of permit renewals, hearings, and protests in the streets by community members, non-profit organizations, and local students, the Maryland Department of the Environment determined, in 2016, that the Energy Answer's 2010 permit had expired and wouldn't be renewed. In affiliation with non-profit, Clean Water Action, I joined students in discussion, protest, and advocacy efforts against this incinerator project. I felt so proud and hopeful that these young people took action to protect their community; to fight for their basic human right to clean air and clean water; for their right to breathe.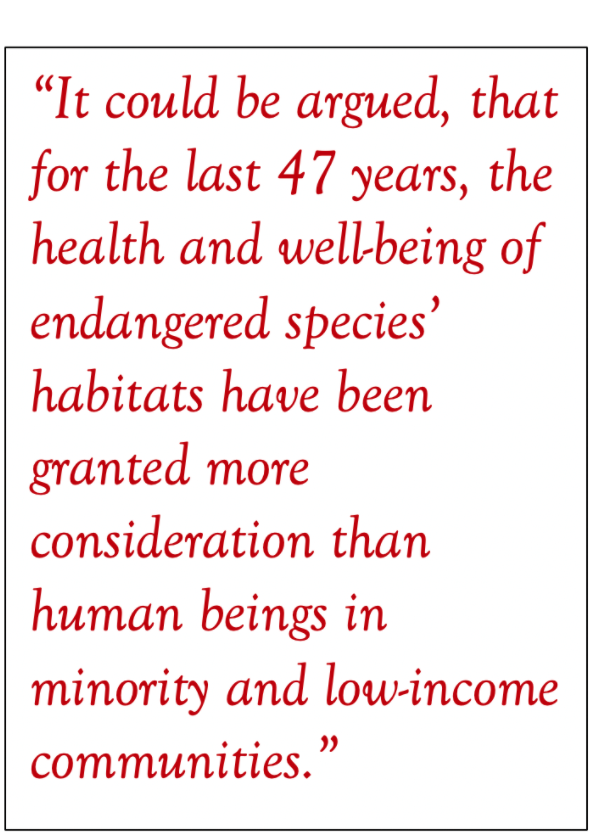 But here's the thing. It shouldn't be that hard. Keeping all people healthy and safe from harm shouldn't require mass protests from children after permits have been issued. Providing opportunities to strengthen and increase resilience in communities shouldn't be optional. The evaluation of the appropriateness of development within any particular community should be as integral to the site assessment process as the geotechnical survey. The green building industry and its associations have worked diligently to provide development, design, and sustainability professionals with the tools to engage communities in the conversation about what happens in their own neighborhoods. These assessment practices should be a compulsory step in the permit application process. Think about this for a minute. The Endangered Species Act of 1973:
requires federal agencies, in consultation with the U.S. Fish and Wildlife Service and/or the NOAA Fisheries Service, to ensure that actions they authorize, fund, or carry out are not likely to jeopardize the continued existence of any listed species or result in the destruction or adverse modification of designated critical habitat of such species.
---
It could be argued, that for the last 47 years, the health and well-being of endangered species' habitats have been granted more consideration than human beings in minority and low-income communities. In lieu of federal action that is not likely any time soon, it falls to us in the development industry, to encourage project teams and municipalities to use every tool at our disposal to fully evaluate the impact and appropriateness of projects to all communities, but especially those most vulnerable. That is what we can and must do every day to help build a better and more sustainable world.
Rebecca Gullott received her Master of Science in Environmental Management from the University of London and is a LEED® Accredited Professional and an Envision® Sustainability Professional. Rebecca is a Project Manager and Business Responsibility Specialist at Doo Consulting, LLC.
http://dooconsulting.net/wp-content/uploads/2020/06/Picture1.png
1588
3054
Rebecca
http://dooconsulting.net/wp-content/uploads/2017/02/doo_consulting_logo-300x149.png
Rebecca
2020-06-25 14:19:15
2022-03-12 14:54:27
Ensuring Environmental Justice in our Built Environment – A Call to Action